There's nothing better than fresh air to clear your mind. We've gone out and found some of the best offices throughout Australia that have incredible outdoor seating, break areas and green space where you can be relaxed and productive!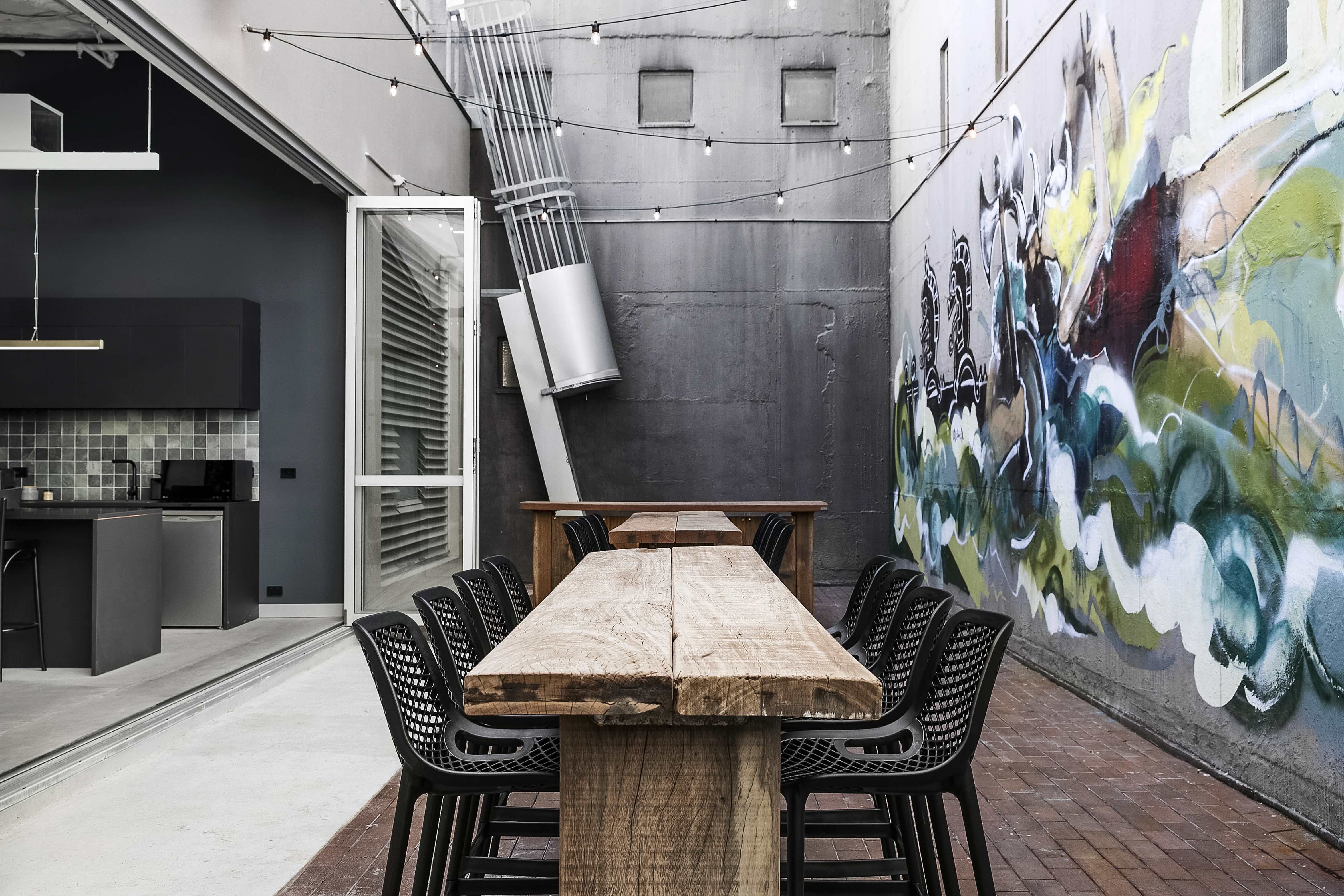 Work Club is an expansive, Nordic-inspired haven located alongside the famed world-class dining at Barangaroo Wharf. There's gorgeous harbour views found alongside remarkable contemporary architecture. The library, furnished with Work Club's signature handmade walnut bookshelves and antique library tables from France, will awaken great thoughts and inspire focus. The meeting rooms are a sophisticated backdrop to suit your brand and stimulate innovation, and the meditation area offers the perfect escape to find peace in isolation. Enjoy the fresh air and work outside on the timber tables; the gorgeous wall art splashing the walls and inspiring everyone from freelancers to executives.
Location: Barangaroo, Sydney
A modern and collaborative work space for individuals and group businesses located in Waterloo, this pet friendly space is perfect for you to leave your house and get productive in a unique, inspirational environment. Featuring polished concrete floors, full-height glass office fronts and beautiful reclaimed feature furniture, these serviced offices have been thoughtfully designed to cater for professionals and creatives alike, without compromising on quality, space and privacy.
Location: Waterloo, Sydney
Mixing it up a little bit here! How cool is this basketball court at The Commons in Sydney? Take a break from all that hard work you're doing and get outside for some fitness fun. Don't worry, there's showers on site so you won't end up being a sweaty mess.
Location: Chippendale, Sydney
Another one of our favourites! With beautifully designed lounges, private offices, and conference rooms that span over five floors, you couldn't ask for anything more. There's onsite showers, a dedicated game room, and of course, an inviting outdoor space that will help you find the ideal work-life balance.
Location: York Street, Sydney
Take a look at that rooftop deck! This luxury workspace has everything you need and more. With 5-metre high windows bringing in an abundance of natural light, as well as plenty of greenery, the outside is brought into our premium space, providing the best of both worlds. There is complimentary tea, Nespresso gourmet coffee and filtered sparkling water available too! There's a reason why brands like Nespresso, Matchbox Productions and Urgo Medical have chosen this space to work.
Location: Cremorne, Victoria
Now this might just be our personal favourite. This impressive rooftop terrace has spectacular views of the CBD. We can't think of anywhere better to sit down and get some work done, or even have that much needed meeting with a colleague. Their beautifully designed office spaces empower your team and business for growth. Fully furnished and ready to move in, the high ceilings, large windows allowing plenty of natural light, and beautiful open-air space makes it hard to refuse.
Location: Brisbane CBD, Queensland
For more spaces like this, visit Spacenow and search from hundreds of different flexible office space options. If you have something particular in mind, get in contact with us and we'll help guide your search so you can find your dream workspace!